Real Customers Reviews
Great Product
If you're a bow hunter, archer, or just interested in the sport this is a great product. The app is fantastic and the overall build of the AccuBow is solid. It's accurate enough to use as practice and for exercise. It's worth the money. My only criticism is the string stops. Before you start shooting it at 30lbs+, put a piece of leather or moleskin over the styrofoam. Mine wore out pretty quick.
Show more
Verified Purchase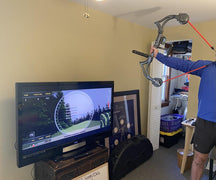 Really enjoy this!!!
My son and I have tried this virtual bow hunting game out and we love it!!! You can set the draw string from 10-70 pounds. All you do is download the app and set up an account and away you go!!! We really love the fishing bow hunting cuz trying to hit the fish that are in the water is quite fun!! I recommend this for all ages!!
Show more
Verified Purchase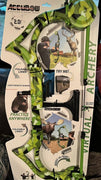 Train train train
I got my bow for Christmas. Mom did a good job, I love it. I have hardly laid it down!!! I broke my hand a few days before Christmas. I am able to train with this every day, stay focused on my goals and keep my muscles in shape.I have shot archery since age 3, I am 12 and shoot National Competitions. This was the best gift I could have ever received.
Show more
Verified Purchase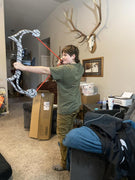 Awesom Trainer
Great trainer to aid in strengthening muscles used to draw back your bow and to focus on shot placement. You can use the Accubow with or without the app and you can have family members join in for a little bit of friendly competition which is awesome!! I love the adjustability of the tool as well. With the adjustability of the draw weight, my wife has also started using the tool which is great because she is new to archery.
Show more
Verified Purchase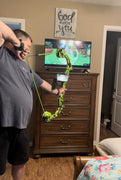 Boys are obsessed
My boys opened this Christmas morning and it's one of their most requested toys to play with today! They are obsessed and it's been so fun to watch them play
Show more
Verified Purchase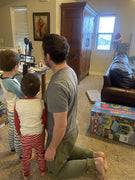 Great fun
My granddaughter is enjoying the AccuBow nano. We downloaded the app with ease and are very pleased. She can practice I side or outside. The accuBow keeps her fit and ready for the next practice. Dad can use it too .
Show more
Verified Purchase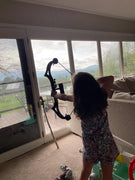 Great sturdy product
I'm impressed with how real the experience feels like with AccuBow. It's super easy to set up. Once you have the App, you will be shooting in a couple minutes as the calibration process is pretty quick and straightforward. This is not a lightweight toy, it feels like the real deal with a sturdy build. There are multiple game modes like shooting targets to zombies. One thing I would have liked to see is an interactive tutorial that focused on improving shooting skills. Overall, I'm happy with the quality and functionality of this product and would definitely recommend it.
Show more
Verified Purchase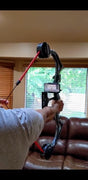 Nice strengthener and fun
This bow is easy to set up and download mobile app AccuBow 2022 to use this bow. It is a strong one for everyday use. this helps strengthen skills. It has some very decent range, and I often have to step back from the target as it hits the wall with a solid thud when close. This is a bow that is an extremely capable bow and can be used by a beginner to an advanced user. This bow is huge but it can be folded making it easy during travelling. Hardness of the string can be adjusted. It is very well made and feels substantial in our hand. There is a laser as well on bow. Makes a nice gift too.
Show more
Verified Purchase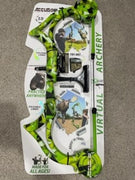 Collest thing I got this year!
Okay, first off I just got to say WOW! This Accubow is cool! I love the way I can fold it up to take with me due to the locking hinges incorporated into the bow. The adjustable cams work well and are easy to set and are great to set up for men, women and children alike. Someone really thought out the phone Mount because it has groves on all four corners to keep mount from pressing on phone volume, power buttons. My girlfriend, her daughter, and myself played with this for several hours and it worked great. Tried standard target shooting and hunting modes. Love the virtual 3D targets. The bow is built solid and has some weight to it which I really like. Overall, this is a great setup and would definitely recommend it to hunters or those who just want to play around with it.
Show more
Verified Purchase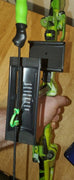 Travel Bow
The Accubow 2.0 Carbon Fiber is a really nice bow with good features. This bow is for Virtual Archery. You will need to Download the Mobile App "AccuBow 2022" to play. The Accubow is Adjustable 10-70 Ibs, easy to travel with as it Collapses and down to 14x14x6in so easy to bring along in anytime or weather condition and practice. Has Real bow string, Real D-Loop ties on also has Good Resistance Dials easy to Adjust, and a good phone mount. Make sure on the phone mount you really tighten it on phone so you don't have the problem of phone popping off. Me and my Family love that a right handed and a left handed can play as my daughter is really right handed but plays left handed in game and real life. Can play all season and get your strength up for Archery season. Helps build Muscle Memory you can really feel it in your arms. Also not very noisy when the string is released. The Carbon Fiber Bow is great overall. With that said the App is a little different but not horrible.
Show more
Verified Purchase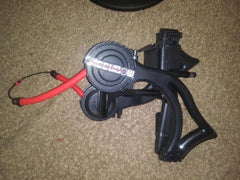 Great practice tool
I got this Accubow 2.0 green mantis complimentary in exchange for my honest review. This bow is great for practicing anywhere! All you need to have is a smartphone and to download the accubow app. Once installed, you simply slide your phone into the phone mount area. It's very easy to setup and lots of fun! Even my 7 year old had a good time. It has dual adjustable dials that adjust from 10 to 70 lbs so it's great for everyone. It really gives your arms a workout too after you play for a bit. We all really enjoyed it. The only downside to this game is you have to make sure everyone is quiet when you shoot or it won't register. Other than that this was a really useful tool. My husband is going to start hunting with bows and arrows and he has been practicing with this. Overall I would say this is a great thing to have for both hunters and gamers, it's lots of fun!
Show more
Verified Purchase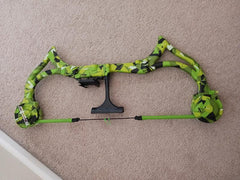 Great bow and app!!!
I want to start by saying both my son and I love this! The bow feels well made with a nice grip and a thick bowline. It's lightweight and compact. I'm left-handed and my son is right-handed, and we both can use it without issue. Getting started is really simple! You can adjust the resistance from 5 pounds to 40 pounds with a few clicks. The locking mechanism is also easy enough for my 11-year old son to use. The Accubow app is free and quick to set up on both android and ios. It is close to a GB, so make sure you have enough space. The app has a lot of features including various shooting modes and even multiplayer! The hardest part of the setup was getting my phone to fit in the phone clip. It's really snug which is nice, but too small for larger phones. It does, however, fit great with my son's iPhone! So far, this has been great for building strength back in my arm as well as developing better technique. My son loves the multiplayer aspect and being able to set up an avatar. Overall, if you're looking for a fun, training tool I highly recommend giving this a try! It's fun and addicting!
Show more
Verified Purchase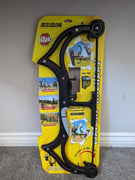 Fun for the whole family!
This was so much fun for the whole family! We really enjoyed playing. This is very simple to use. All you have to do is download the app on your phone , place the phone in the phone holder on the bow. Set the bow to the desired pull and get ready for some target practice! I love that the bow can be set for anyone to use and we all enjoyed it! The bow is very nicely done and very strong so will stand up to everyone getting to play! I love the idea of getting to practice archery but not using real arrows so it's fun and safe for the whole family. This is very easy to adjust and reset so changing out new players is not hard at all! I really appreciate the whole family gets to play and noone gets left out! The bow itself looks very lifelike and so far everyone loved playing, even me!
Show more
Verified Purchase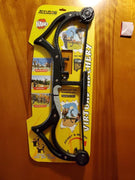 Very entertaining
I just received it a few days ago and my family is having a blast. My kids downloaded the app and followed fhe instructions we each have our own avatar to play against each other and keep our score. It can be played anywhere in or outdoors and provides hours of fun.
Show more
Verified Purchase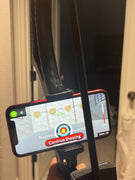 Pretty Cool!
The Accubow 2.0 is a pretty cool virtual archery training device. Its made for all ages and a lot of fun for the family. It can be used to train or really just to have fun. It is easy to use by simply downloading an app and attaching the phone to the phone holder on the bow. It has foldable limbs for easy storage. It adjusts the resistance from 10 to 70lbs. It helps build strength as its a little heavy for me since I have never done this before. I know it will take some practice before I will be able to stabilize and hold this bow. I am 5' 4" and average weight. The app has different ways to practice. Theres competitive or target. Theres also different scenes and animals. Overall, its pretty cool and I look forward to practice and get better at playing.
Show more
Verified Purchase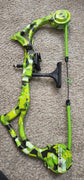 Fun way to practice archery
What a cool, interesting way to train real life archery skills.The Accubow feels like a real bow in my hands. The carbon fiber material and finish makes it looks realistic as well. The whole family thinks the app is a lot of fun. There are many different modes and something for everyone: target training, bowfishing, hog night hunting, battles versus other players or versus the computer, an arcade mode that includes zombies and so much more. It's all a video game but the training is real. You can feel the soreness in your arms and fingers. It trains you to hold the bow level and still for the next time you hold a real one. My favorite part about the games in the app is the virtual reality aspect. It's a 360 degrees experience. For example, during the zombie game, you have to make sure to check your back by moving the bow around the room. The bow folds well for storage. On the downside, the laser beam and phone holder could be made a little better, the plastic feels low-grade. I was a little bummed that a cord on the main elastic used for shooting started unraveling after only a couple of hours of use. It still works and I fixed it the best I could with strong glue but I hope this part can be changed if it ends up snapping off. All in all, it's a great bow for training that comes with a super fun app. I've read that some people experience misfires (triggered by background sounds in the room) with the first version of the Accubow. It seems the issue has been fully resolved with the 2.0 as I didn't get a single misfire. I enjoy it and so does my son. Great find!
Show more
Verified Purchase